FORESTER'S ARMS
Posted on Tue April 2, 2019.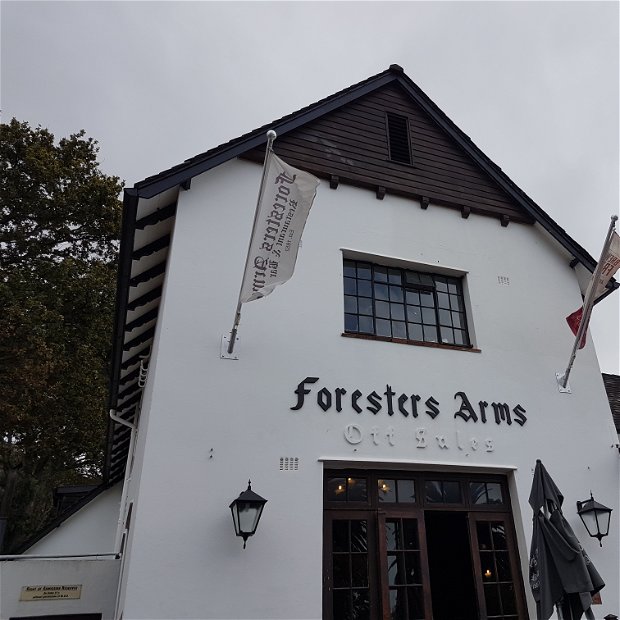 FORESTER'S ARMS BETTER KNOW AS FORRIES
About Forries – what we offer
Nestled at the foot of our majestic mountains, in the leafy suburb of Newlands, Cape Town, Foresters Arms Restaurant and Pub (fondly referred to by the locals as Forries), is one of the oldest pubs in South Africa and provides the perfect retreat from the hustle and bustle of city life. Its welcoming ambiance provides guests with the opportunity to sit down, relax and enjoy a fine draught beer accompanied by a delicious meal selected from our varied gastro-pub menu.
Dining for all Seasons
On warm, sunny days, enjoy the outdoor air by relaxing at tables in our ivy-covered arbours or under the natural canopies of the huge oak trees that shade our garden area. During our chilly Cape winters, nestle comfortably in the indoor restaurant, in the warm glow of a fireplace and surrounded by the olde worlde charm of wood, leather and history.
Sunday Carvery
We are well-known for our Sunday Carvery, which is a winner, with succulent joints of meat and fresh seasonal vegetables, all cooked to perfection.
For the kiddies we also have a delightful play area, with safety-approved swings, slides and jungle gyms. So whilst you are relaxing and enjoying your Sunday carvery, the little ones will have plenty with which to amuse themselves.
Wood-fired Pizzas
We also have a wood-fired pizza oven with a selection of pizzas ranging from the well-flavoured Margarita to the more exotic combinations, such as smoked salmon and crème fraiche.
Bar & Whiskey
Forries is fully licensed and in addition to a large range of draught beers, excellent wines and cocktails, also boasts a Whiskey bar with the finest selection of Scottish & Irish whiskeys.
Sports fans delight
Situated close to the Newlands rugby and cricket grounds, Foresters Arms is the ideal venue to gather with friends for refreshments and a meal before and after a match. Or, you may find it more comfortable to relax at Forries and enjoy the match by watching one of the many TV screens that we have, to cater for our sport fans.
Contact Details
+27 (21) 689 5949
Foresters Arms Restaurant & Pub
52 Newlands Avenue
Newlands
7700
Cape Town
South Africa.
admin@forries.co.za
info@forries.co.za