Your gateway to the Victoria Falls! Maramba River Lodge. Livingston. Zambia.
Posted on Wed August 19, 2020.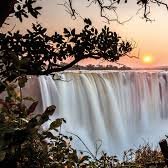 Ideally situated 4 km from the Victoria Falls, outside of Livingstone, Zambia.
Maramba River Lodge provides the most attractive all-year-round accommodation all based in a shaded woodland setting. The accommodation includes:
Luxury Tents
Chalets
Safari tents
Dome tents
The Lodge is situated on a bluff overlooking the Maramba River. We are often visited by the resident wildlife with elephant wandering through the grounds at certain times of the year.
https://www.maramba-zambia.com/
PO Box 60957
Livingstone
Zambia
Tel: (+26) 0213 324189
Cell: (+26) 0976 587511
Fax: (+26) 0213 323130
Email: reservations@marambariverlodge.com River Lodge. Livingston. Zambia. Gateway to the Victoria Falls
https://www.maramba-zambia.com/
PO Box 60957
Livingstone
Zambia
Tel: (+26) 0213 324189
Cell: (+26) 0976 587511
Fax: (+26) 0213 323130
Email: reservations@marambariverlodge.com